As part of this years 'All along the Riverbank' event, organised by The New Carnival Company, Gift to Nature is holding a Mad Hatter's Tea Party at Sandown Community Orchard. Bring a picnic, join us and watch the Teaparty mayhem unfold. Hide from the Queen of Hearts, follow the White Rabbit or hunt for water creatures with our rangers.
'Eat Me' 'Drink Me' refreshments available.
A fun event for all the family – Fancy dress encouraged!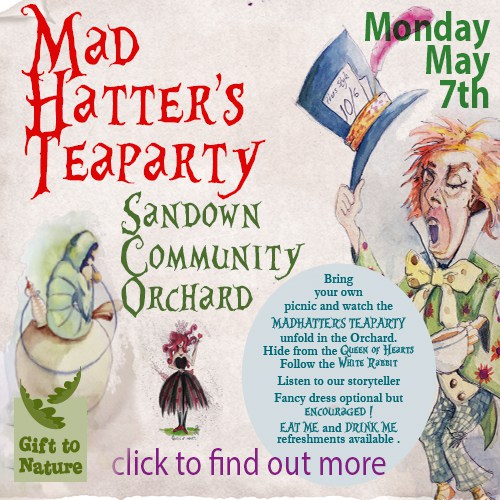 How to get there?
On foot/By bike – The site is right on The Red Squirrel Trail (NCN 23) at Longwood Lane. You can walk into the site from the cycle track (through the carved arch) or from Longwood Lane.
By train – Sandown Station + 15 min walk.
By Car PO36 9PR – Informal parking is possible on the verge opposite the site, please take care not to obstruct the road or any site entrances.