Brading Down
Brading Down is  one of the Island's most popular sites for recreation, picnicking and wildlife watching, offering stunning panoramic views, a wealth of habitats to explore and opportunities for everyone to enjoy the countryside. It lies at the eastern end of the Island's iconic central chalk ridge and is within the Isle of Wight Area of Outstanding Natural Beauty.
How to get there
On foot/By bike – The site can be accessed from various points along Brading Down Road and Lower Adgestone Road.  A designated "quiet lanes" area links the site to The Red Squirrel Trail (NCN 23) at Longwood Lane.
By bus – Brading Bull Ring Stop (Routes 2/3) + 15 min walk. (Bus Timetables)
By car – There is a large chalk and grass car park alongside Brading Down Road. Parking is currently free.
Access
What to look out for
The thin chalk soils to the east of the site support a typical downland plant community with pyramidal orchids being a particular feature in the summer. In recent years a programme of scrub clearance has been undertaken. The area is good for butterflies including common blue, chalkhill blue, small, large and dingy skippers, marbled white, gatekeeper, and meadow brown. Those lovely people at the Isle of Wight Natural History and Archaeology Society did a bug survey for us and you can see what they found here. In addition to the wildlife interest of chalk downland, the ancient field system on Brading Down is a Scheduled Ancient Monument. The finest surviving ancient field system on the Island is to be found on the down. This is likely to be of late Iron Age or Roman date and highlights the last time the fields were ploughed. The views over Brading Roman Villa and Sandown Levels reinforce the historical significance of the area.
Works to Brading Down, 2018
The Island 2000 Trust will be delivering a new project worth over £25,000 after securing a £20,000 grant from Postcode Local Trust, a grant-giving charity funded entirely by players of People's Postcode Lottery, it was announced today. The project is focussed on the Gift to Nature reserve at Brading Down, one of the Island's most iconic viewpoints and is intended to encourage more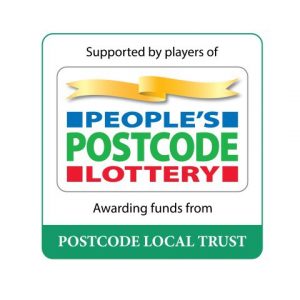 people onto the Downs and learn more about this wonderful place.
Visitors to Brading Down in 2018 will notice big improvements, with better surfacing on the car parks, a new picnic area, new seats and more signs giving information about the remarkable archaeology and heritage of the area. Work has already started to improve the panoramic views of the east Wight, and is expected to continue throughout the summer.
Island 2000 CEO Graham Biss said "We have thirty sites across the Isle of Wight and Brading Down already is one of the best-loved sites managed by Gift to Nature, but we want more visitors to the Island and Islanders to enjoy this special place. As well as being a great place for a picnic it's got an extraordinary story to tell – did you realise that the Down is home to Roman and Iron Age field systems?"
Click here to read on and find out about the Wildlife of Brading Down >>>
Click here to read on and find out about the human history of Brading Down >>>
Get Involved
There are various ways you can help improve and maintain our sites. We rely on conservation volunteers to help with many tasks and also need people who are happy to regular visit the site be our "eyes and ears", this means we can respond much quicker to issues. Find out more here.
You can also help by becoming one of our regular supporters. Even giving a few pounds each month can make a real difference, with your donation being invested into site management and improvement work to benefit site visitors and look after our precious wildlife. Sign up here.